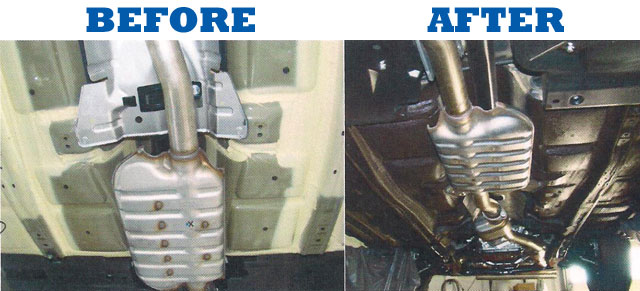 Petroleum based resin product that looks like black stucco. We apply it to the entire undercarriage of the vehicle - it goes into all the nooks and crannies.
As a bonus, we'll go inside your doors, fenders, and tailgate and apply an anti-rust inhibitor. This will keep your vehicle from rusting from the inside out.
Treatment has sound deadening properties and reduces noise by up to 30%.
5 year warranty for new vehicles and 3 years on a pre-owned.
Vehicles from the factory are not adequately protected for the harsh New England weather.
Protect your investment!
$398.00 for cars | $498.00 for trucks

(Honda's rust perforation Limited Warranty - covers body sheet metal panels only and it does not cover rusting of the outside of the under-body (floor pan) or any other part of the car except body panels; rust caused by sand, mud, salt, or submergence of a body panel in water.)