Protects your Honda from all the elements mother nature and human nature can throw at you! ProtectAll Offers protection for both the interior and exterior of your vehicle and keeps it looking brand new for as long as possible. Benefits include a higher resale value, easy appearance maintenance and keeps your car looking brand new longer!
New car? Protect it with ProtectALL. 

Protecting your car from bird waste, road salt, de-icing agents, insects, exposure to the sun, tree sap, hard water etching, acid rain, and industrial fallout.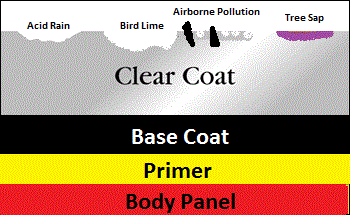 EXTERIOR PROTECTION WITH ProtectALL

Acid Rain & Sun Exposure





"Acid rain" refers to both wet and dry acidic pollutants that may damage the exterior of your car. All forms of acid rain may cause pitting in your automotive coatings. Sun exposure and extreme cold weather changes will cause paint to fade over time.






Bird Droppings





Bird droppings contain uric acid, which is the same chemical composition as ammonia. If untreated, the marks left by bird droppings can ruin your car's paint. Don't park under trees.






Road Salt & De-Icing Agents





Living in New England, there's no getting around in the winter without exposing your vehicle to road salt and de-icers. Salt speeds up the corrosion process in steel.






Tree Sap





Maple, oak, and pine trees produce the most tree sap. Dried on sap that isn't removed in a timely fashion can remove or damage paint permanently.





 INTERIOR PROTECTION
WITH ProtectALL

Protecting your car from food, drink, vomit, urine, pet stains, baby diaper contents, crayons, topical oils, ink, lotions, gum, dyes, lipstick, makeup, blood, accidental rips, cuts, tears, and burns.

 Burn Holes



 
  


Whether it's a cigarette burn, or your 4 year old with a magnifying glass... be sure you're covered for burns in your seats.

 
 

 Pet Stains



 
  



Creates a barrier against stains.


Maybe you're own of those dog-loving people who takes their pup everywhere. Protect your interior from muddy paws, claws, drool, and waste.

 
 

 Rips & Tears



 
  
Between loads of groceries, sports equipment, pets, and life your car's interior takes a beating. Don't let life rip apart YOUR seats.

 
 
 

Stains & Spills



 
  

Makes clean up easy.


Whether you're a parent, grandparent, babysitting for a friend, or just have messy passengers, protect your seats and carpets from food spills from meals on-the-go and coffee spills during your morning commute.

 
 

The greatest value of ProtectALL is not just the protection it provides, but the

warranty

that comes with it.

The Protection Plus warranty will

REPAIR, REFINISH or REPLACE

the defected areas at

no cost to you

. Simply bring in your vehicle and the policy and we will evaluate the damage and take care of rest. While those repairs are being made, Honda of Keene  will

provide you with a loaner car

.

Cars that are clean on the inside and out will consistently show a higher trade-in or resale value.
Protect the value of your car with ProtectALL.