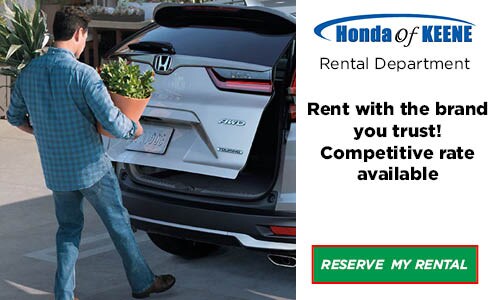 Why go to another rental agency when you can rent directly from Honda of Keene in Keene, NH? Located at our sister store, Toyota of Keene, you can now rent Honda models for service or insurance replacements, for business or for leisure. Our rental cars are clean, low mileage, and 100% smoke-free. Unlike a rental agency, the rental service at Honda of Keene offers many benefits including competitive rates, a transparent rental process, and no hidden fees.
Rent Locally, Rent Quality. 
*Rates are based on local travel, please call us for details.

About Us

Why Rent from Honda of Keene?
Affordable - We offer extremely competitive local rates

Convenient -

A hassle-free alternative during service repairs or when you need an insurance replacement vehicle

Try Before You Buy

Current Lease Expiring Soon? - A great way to prevent going over your mileage

Take that long weekend getaway to the next level

Impress your crew- Perfect for family reunions, weddings, a new job, relatives visiting over winter break
FAQs
How are rates competitive with other rental agencies?
Since we are a Honda certified dealer, we are able to provide
very
competitive rates. 
Where do I pick up and drop off my Honda Rental?
At this time, Honda vehicles rented from Honda of Keene must be returned to
Toyota of Keene
(our sister store right next door at
591 Monadnock Highway East Swanzey, NH 03446
). This is the Rental Desk location for all the Fenton Family Dealerships. 

What Honda models can I rent?
Right now, you can rent the Honda Accord, Civic, CR-V, and Odyssey. However,  rental availability is limited so we ask that you please call us in advance so that we can reserve a vehicle for you.
Can I buy the vehicle I am renting?
Definitely. Honda rental vehicles are available for purchase so please check with Honda of Keene if interested.
Can I take a Honda rental out of the state of New Hampshire?
Yes! Please speak with one of our rental advisers regarding your driving needs and we'll see how we can best accommodate them. 

Are there age restrictions on the person renting the Toyota?
Yes. You must be 21 years of age to rent a Honda vehicle in this program.

Are there any other restrictions?
You need a valid driver's license and a major credit card in the customer's own name and proof of the customer's full coverage insurance to be qualified to rent a vehicle with us.
Okay I'm Ready! How do I get my Honda Rental?

Call 603-354-5053 to reserve your Honda Rental today!

*Available rental vehicles limited in the Keene and Swanzey NH area so please call ahead, if possible, for the best availability. Thank you for considering Honda of Keene for your rental needs!

Monday: 8 AM - 5 PM
Tuesday: 8 AM - 5 PM
Wednesday: 8 AM - 5 PM
Thursday: 8 AM - 5 PM
Friday: 8 AM - 5 PM
Saturday: 8 AM - 1 PM
Sunday: Closed

Call Our Rental Help Desk To Reserve Yours Today:
 603-354-5053


Or Request A Rental Online!

 Available Honda Rentals.
| | |
| --- | --- |
| | Civic |
Accord

Please call for price
CR-V

Please call for price
| | |
| --- | --- |
| | Odyssey |