At Honda of Keene we carry all the major tire brands and have the perfect tire for your vehicle. We offer tires from Good Year, Michelin, Dunlop, BF Goodrich, Yokohama and many more!

Honda is a special vehicle, right down to its tires. When the time comes to replace them our NH Honda Tire Center can help you choose tires that are a perfect match for your Honda because after you, nobody knows your Honda like we do!

Why buy tires from Honda of Keene?
Nobody else knows your Honda like the service team at Honda of Keene. Nobody knows how to care for your Honda like the certified technicians at Honda of Keene. When it comes to tires our technicians are factory trained and know exactly what tires are recommended for your vehicle and install them using our state of the art facilities and equipment.

If you don't drive a Honda vehicle Honda of Keene's Tire Center still has the perfect tires for you. It is a common misconception that dealerships are priced higher than other tire stores. In reality our buying power with manufacturers allow us to provide very competitive if not lower prices then the other "tire guys". Our state of the art facility and equipment and technicians live up to Honda's standards so you can be assured that only the best are at work on your vehicle.

Have you checked your tires lately?
The difference between good tires and bad tires can be the difference between a collision and a close call. There are many factors that could cause your tires to be in poor condition. Low tread can cause tires to lose traction and hydroplane on wet, snowy or icy surfaces. Improper inflation can lead to blowouts causing you to lose control of your vehicle unexpectedly. 
Honda of Keene's tire center offers the following services and more to insure that your tires are safe and road worthy:

Computerized Wheel Balance
Balancing your wheels is paramount to making sure your tires are wearing evenly and is recommended every 5-10,000 miles. Uneven wear of your tires can cause premature wear to shocks and struts, poor handling, loud noise, and vibration. 

Tire Rotation
Rotating your tires is the key to maximizing the life of those tires. In most vehicles the front tires tend to wear faster than the rear tires. Regularly rotated tires can make sure that you balance out that wear and don't need to purchase tires more often than you need to (tires can be expensive!). Tire rotation is recommended around every 6,000 miles.

Tire Repair
Properly repairing a tire that has been damaged, deflated or is losing air due to a nail, screw or sharp object is crucial to ensuring safety. Some tires may be repaired if they continually lose air or have a puncture in the tread area. Whenever you have a tire issue, be sure to have it inspected by a tire professional at Honda of Keene to determine whether it can be repaired or needs to be replaced.

If you notice any of these symptoms, stop by the Honda of Keene Tire Center and let us help!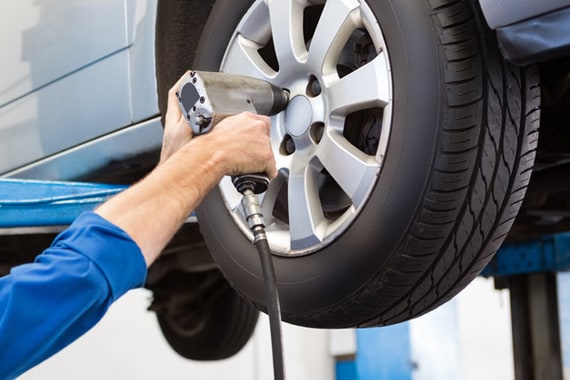 Don't just take our word for it!
"I went in for a recall on my fuel pump. Everything was done professionally including the safety procedures that are in place. Great service and very friendly people."
- Honda Fit Driver, September 2020
"5 stars as usual. Just a great place to get your vehicle taken care of. Honest people, clean building and reliable mechanics."
- Honda Civic Driver, November 2020
Ask Us Anything!
Ready to come in? Schedule your service now!